Hey ladies! Hope you are having a wonderful weekend. I just got back from breakfast (@ 1:30 I know I'm a lazy college girl) and have a tour @ 3! Yay prospective studentsss
Anyway, PreppyBF and I did some re-vamping of my blog. He made the header (I'm a lucky girl.. he had to put up with my numerous revisions) and I added some ribbons and titles to some of my "gadgets." If you are thinking about doing the same, check out
SJH Blog Design!
She has links to various places to get backgrounds and codes for HTML. Veryyy helpful when you're trying to do it by yourself.
I also started a
Twitter account
! Go follow me there! Not really sure what the point is but I think it's to publicize what I'm blogging about. I'll also add little updates on my life that aren't enough to write a whole post about.
This weekend was filled to the brim with shopping. First, A. and I went to the Antique Mall by campus. It was really creepy actually. Makes you wonder where all that stuff came from! There were fireplace mantles, dolls, bed frames, old quilts, jewelry, really old 50s hats, Victorian little boy suits, the list went on. We even found an old wooden crate that said "Embalming fluid"... yeahhh very creepy. We spent two hours in there and I got a ring for $2.50! It's so cool, it's an old spoon that the handle was bent into a ring! This is similar to what it looks like.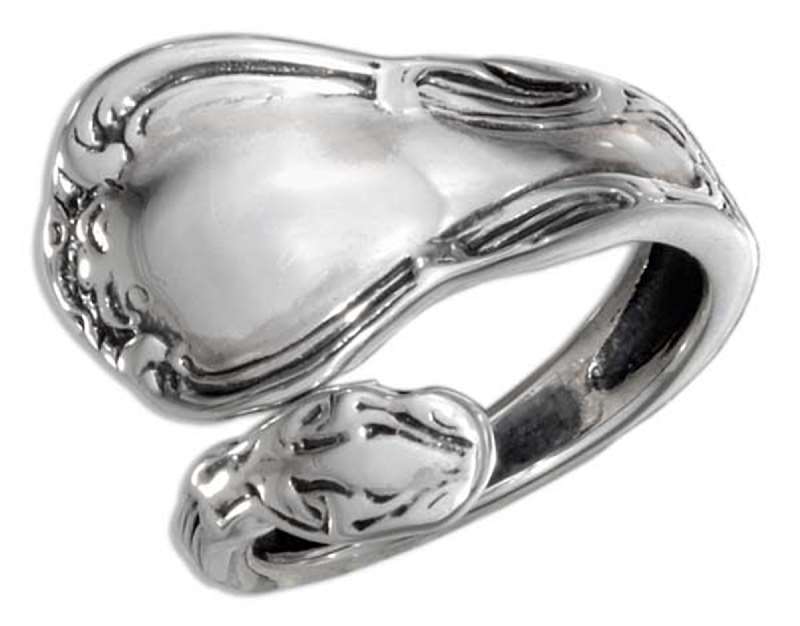 After borrowing A's polish, it looks shiny and new! I wonder how old it is.
EDIT:
I looked at the name inside and it says "Wm.A Rogers Oneida LTD" I saw a couple patterns similar to my ring and they were from like 1948!! Crazy.. When I find my camera I'll take a picture so I can post it! Anyone out there a Oneida expert? I'd love to know how old it is!
A trip to the outlets followed. We did some damage, I got a few spring shirts, a belt, and a canvas tote from Gap.
Ahh! Where did the time go?? I gotta run kiddos! I'll be back in an hour or so to finish off this post!
edit: Okay I'm back!!
So that tour was soo annoying! The parents were chewing gum obnoxiously and kept saying MMHMM mmhmmm the whole time.. definitely moved quickly with them. Oyyyy
Anyway back to the post. A and I went to the mall and Target yesterday. We're getting an apartment next year so we're really excited to pick out shower curtains and placemats, etc. I know a couple of you have talked about this pattern but I LOVE the Damask and Garden Party patterns. I might just have to get them now, even though they won't be used for like 6 more months!
I also got a reaaally soft white scarf and a solid black turtleneck for $6.48! Quite the steal. Head over to Tarrjay!
Anyway so what do you think of the layout? Did you have a good weekend?